Qualification and Validation Forum 2022
After two years of little to no opportunity to discuss topical issues and exchance experiences face-to-face, the Qualification and Validation Forum is finally back on site to offer just that. Join us on 15/16 November 2022 in Heidelberg, Germany to learn about the latest trends and legislations in qualification and validation.
Highlights
EU Regulatory perspective
ISPE Commissioning and Qualification Guide Parallels and Differences to ECA´s Guide
How Suppliers work: GEP in Qualification
Remote FAT/SAT
Update Equipment Qualification according Categories
Case Study Customer supplier cooperation – A project example from Merck Healthcare KGaA
Update Electronic Documentation in Equipment Qualification
Tutorial workshop on trends in "Electronic Q&V Documentation"
3 C-Management
Download the Programme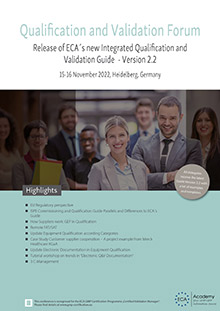 Objectives
Qualification and Validation regulations have changed in both Europe and USA in recent years. Many pharmaceutical companies and suppliers are still using methods and documentation from previous practice although a risk-based approach has become a regulatory expectation since years. Also, many companies have very little integration between their activities and suppliers activities, so the overall qualification and validation effort is complicated, expensive and time consuming. Only few companies have leveraged their qualification and validation programs to a fully integrated approach, as the EU Annex 15 and the FDA Process Validation guide emphasizes.
This Forum is about time saving integrated qualification and validation activities, where suppliers are an important factor in this modern approach.
A team of pharmaceutical companies, engineering companies and suppliers have developed and further optimized ECA`s Good Practice Guide "Integrated Qualification and Validation – a guide to effective qualification and validation based on Customer – Supplier Partnership". The guide considers feedbacks from regulators, the pharmaceutical industry and suppliers as well as practical experiences from real project cases. In this updated 2.2 version there are new aspects of data integrity when working with electronic documents, new examples to make the process on "how-to-do" the critical aspects risk assessments (CARA) easier to understand, improvements on illustration of remote FAT/SAT, as well as some new aspects in equipment categorization and setting-up a contract between pharmaceutical customers and suppliers. It is the endeavor of the expert team to keep the guide always up to date with the latest knowledge through newly gained experiences.
The experts working on this guide will be present so participants will have the opportunity to hear first-hand and to discuss the contents and technical aspects of the guidance document, its scope and practical application. Case studies are presented to help better understand the content of the guide and its implementation. All delegates will receive the possibility to download the current guide free of charge . Case studies explain how to work together with suppliers and how to use an integrated approach.
Background
Qualification of equipment and validation has been mandatory since the late 80s (FDA Guideline on Process Validation) and the early 90s (EU GMP Guide). Due to inspection results at that time, qualification activities increased significantly and very often, the focus on the patient was lost. The original purpose behind qualification, which is to show that equipment is fit for its intended use, was lost. A white paper from the ISPE "Risk-based qualification for the 21st century tried to amend this. With reference to this paper, ECA´s Validation Group has now further developed a Good Practice Guide on Modern Qualification to Integrated Qualification and Validation. This guide is supposed to assist pharmaceutical companies and suppliers with how to qualify equipment in a lean way and how to integrate the qualification into validation. Like in the GAMP-Guide, examples build the core of this further developed Good Practice Guide on Integrated Qualification and Validation.
Target Audience
Everyone who may be influenced by the Annex 15 revision and FDA Process Validation Guidance regarding Qualification/Verification and Process Validation activities and want to see how an integrated approach to qualification and validation can enable successful, lean projects. So addressed are pharmaceutical companies, API and excipients manufacturer and of course equipment supplier and engineering companies.